Welcome to 2013!  My witty and insightful cousin, Jessi Hagerty, RD, is here with expert advice on nutrition and deliciousness for staying healthy all year…
So it's officially here.  The first Monday of the New Year.  It's Go Time.  Right?  Not so fast.  I know many of you have come up with lofty goals to lose 20, 30, maybe 50 pounds this year.  Or maybe your goal is much simpler, and includes adding more vegetables to your diet, and hitting the gym a few times a week.  Either way, it's hard to put these goals into action of you aren't well equipped.  That's why with any new goal I set, I always take the Boy Scout motto:  Always be prepared.  Here is my list of 10 things you should have ready, to reach your health and wellness goals this year.
1.  A good pot and a good pan.
This is a kitchen staple for me.  If you want to eat healthy, you have to cook healthy and if you want to cook healthy you have to have some sturdy tools.  A good non-toxic non-stick pan, and pot can go a long way.  They'll help you whip up everything from a veggie-packed omelet to a big batch of hearty soup, and a good non-stick surface will allow you to cook using less oil or spray.  Check out my simple 1-pot meal featured below, requiring nothing more than some cans, a pan, and a pot.
2.  A sharp set of knives.
Ever try to make a salad, or cut a potato or onion with a dull set of knives?  It's the pits, really.  Get yourself a nice sharp set of knives (Santa got me some of 
these
 for Christmas.  They're cheap, sharp, and look pretty swanky).  Another option is this 
salad chef
.  I don't own one of these, but I've heard a lot of great things.  This makes chopping, slicing, and dicing a breeze.
3.  A food processor or high powered blender.
I use my food processor or blender at least 4x/week to make everything from pureed soups to healthy granola.  I even make a variety of healthy dips like hummus, salsa, and guacamole.
It's a lot easier to eat healthier, if you have healthy foods readily available at all times.  Other wise, it's easy to get hungry, and go for the first thing you can think of:  Pizza.   
Make a core shopping list, that includes your healthy pantry items.  Keep track of what you need more of, so you can get to the grocery store prepared.  Now… stick. to. the. list.  I promise you this will save you valuable money and time, and keep you on track with your goals.  If you want to indulge, add what you want (or the ingredients to make it) to the list.  This way, it's incorporated into your plan, and you're less likely to over indulge.
6.  A calendar… that you look at frequently.
This is a great tool for scheduling workouts, meal planning, and dining out planning.  Yes, sometimes schedules change, but to have your exercise scheduled into your week turns it into a personal appointment that you have to stick to.
This might not be for everyone, but some people find it helpful to track their progress. It's a great tool to see how far you've come, and can keep you motivated through the obstacles that get in the way to a healthy lifestyle.
8.  A gym bag… that you're not ashamed to carry to work.
I just love the bags Lululemon carries.  They're not for everyone, but as someone who is frequently carrying around a change of clothes, sneakers, tupperware, a laptop or iPad, and an array of papers, pens, lip gloss etc, these bags have a compartment for EVERYTHING.  Do I always use all of them?  No.  But they're great to have, and easy to carry throughout your busy day… and I get complimented everywhere I go.
9.  A good pair of sneakers.
My personal favorite is the Nike Free line, they leave your foot plenty of room to move around in, and are a great shoe for everything from running to strength training.  Not to mention their sleek design can easily be work with jeans for a casual look to and/or from work.
10.  A friend, family member, or coach that knows about your goal(s).
Let's face it, we all need someone to motivate us.  A friend, family member, life or health coach is a great resource for keeping us on track with our goals.  Not to hold you accountable for every small action that you do, but to motivate you to keep going.  Plus, you're more likely to stick with your goals once you put them out into the world.
Am I missing anything?  What's on your prep-list?
Recipe for Sweet Paprika and Tomato Soup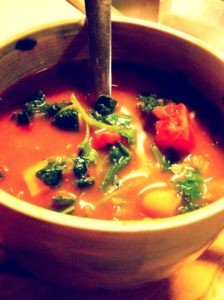 1 sweet onion, diced
3 stalks celery, diced
1-2 tablespoons curry powder
1 tsp smoked paprika
small pinch cayenne pepper or hot sauce
salt and pepper to taste
1, 15 ounce can fire roasted red peppers
6 cups low sodium vegetable broth
1 cup red lentils
3 leaves dinosaur kale, chopped
cilantro for garnish.
In a pot over medium heat, place onion and celery, stirring constantly.  If needed, add a small amount of vegetable broth to prevent sticking.  Continue until onions are translucent and add spices.
Place tomatoes, vegetable broth, and red lentils, and cook ~15 minutes, until red lentils are tender.  Add kale, just until wilted and serve.  Garnish with cilantro.
Jessi has been working in the health and fitness field for over 6 years and is currently living and working in Boston, MA as a Registered Dietitian, Personal Trainer, and Movement Instructor.   I received my BS in Nutrition and a minor in Dance from Boston University in 2009 and completed a dietetic internship at Oregon Health and Science University in 2011.
Jessi created Just Bee to offer a broader perspective on food and nutrition.  "Healthy" is not defined by the nutrition facts label on the back of a grocery store item, but by the impact a food has from our earth, to your body.  All of my advice and recipes are compiled together to provide you with solutions to sustain our earth and our food system, sustain your health, and sustain your lifestyle.  The ultimate definition of "sustainability."
Besides writing and consulting for my blog and business Just Bee, I currently work for Whole Foods Market as a Healthy Eating Specialist, and dance with On Stage Dance Company in Boston, MA.